What will you find here?
Skill building education, to walk away with brand new knowledge
※
Learn how to build success in the spa/wellness & esthetics industry in 1-hour chunks, make connections & gain support
※
Seminars, classes and workshops, oh my!
※
Our blog - gain a fresh perspective on industry trends & current topics
※
Ready to use brand images to make your social posts and newsletters simple and effective
※
Need something else to help you be successful? Contact us today.
Education
Register now for our newly revised Safe Salon and Spa online class to give your clients the confidence your business offers the cleanest and safest environment. This course is offered at no charge, and you can download a certificate of completion too!
Coming Soon: Footcare!
Esthies and Their Besties
Every Tuesday morning, join your spa and esthetics colleagues in a one-hour call to find support for challenges, participate in industry discussions, and learn the skills you need to be successful in the spa and wellness industry.
Each week is a new topic!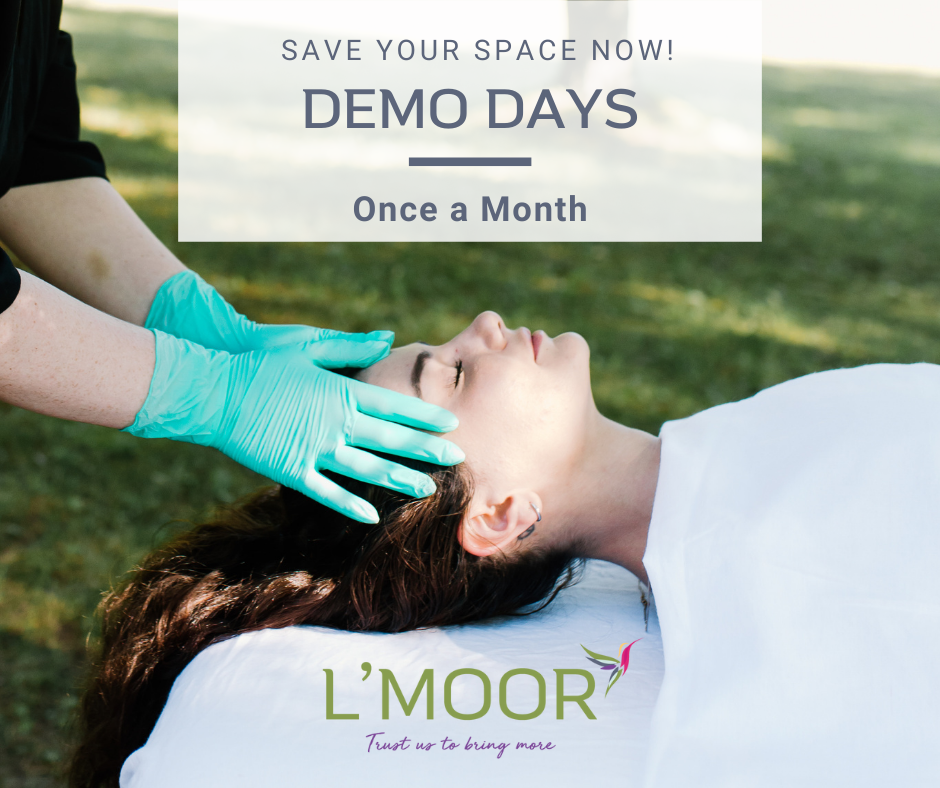 Demo Days
We offer many types of fun and educational

events

to fit in your busy schedule - now from the comfort of your own space.
Free

to attend and held virtually, we invite you to join us every month for an exciting new topic.
Current Topics & Industry Trends
Do you sometimes struggle with images, hashtags and wording for your social posts and newsletters?
Below, you'll find everything you need to successfully tell your clients about the brands and services you offer, with all the benefits, consistently.
You can use these words and images on your social platforms, on signs, and in newsletters - go ahead and download them!
Moor Spa
Moor Spa is a Canadian-made, 100% naturally sourced skin, body, and wellness line for spa professionals. This lifestyle brand offers safe and effective products to transform your clients' skin and overall health.
Suggested hashtags: #moorspa #moorspapartner #moormud #biodegradable #madeincanada #lmoorbringsmore

Tag: @therealmoorspa and @lmoorbringsmore on Instagram

Tag: @therealmoorspa and @spaneeds on Facebook
Makes Scents Natural Spa Line
Made in small batches using the finest essential oils and carefully selected ingredients, every Makes Scents product not only feels, smells, and looks phenomenal but is natural, vegan, and cruelty-free. Makes Scents offers a range of sophisticated formulations, including:
Body Scrubs • Body Butters • Body Wraps • Bubble Bath • Beard oil • Essential oils.
Suggested hashtags: #makesscentsnaturalspaline #lmoorbringsmore

Tag: @makes_scents_natural_spa_line and @lmoorbringsmore on Instagram

Tag: @MakesScentsNaturalSpaLine and @spaneeds on Facebook
Light Elegance
Light Elegance nail enhancements are 9-free, HEMA monomer-free, cruelty-free, gluten-free, and vegan.
Born from Chemistry, Quality, and Community - Light Elegance has developed a vast selection of hypoallergenic, easy-to-apply UV/LED cured colour, glitter, and buttercream gels for elegant nail extensions or overlay, for all skin tones, nail types, and styles.
Share your beautiful manicures with these s

uggested hashtags: #LightElegance #ThisisLE #LERocks #LEPPlus #LEGlitterGel #LEColorGel #lmoorbringsmore

Tag: @lightelegancehq and @lmoorbringsmore on Instagram

Tag: @LightEleganceHQ and @spaneeds on Facebook